Main Page
Jump to navigation
Jump to search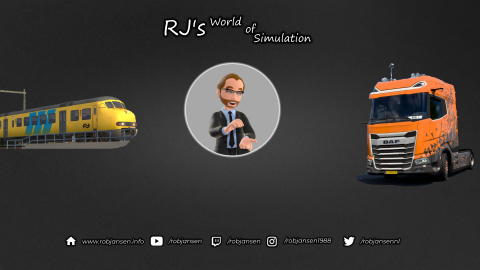 Welkom bij RJ's World of Simulation
Op Twitch stream ik diverse games waaronder
Kijk eens rond op deze wiki en kom gerust eens langs op mijn Twitch of YouTube kanaal!
Vergeet niet te volgen en te abonneren om mij te supporten op Twitch en YouTube!
Andere social media vind je bij Over mijzelf....
Wil je meer weten over mij of de apparatuur die ik gebruik? Kijk eveneens bij Over mijzelf....
Wekelijkse Schema
Op het onderstaande schema is terug te vinden wanneer ik stream. Voor de lijst wat er op de stream zelf gebeurt die dag kijk hier op het schema.
Dag
Stream
Game
Opmerkingen
Zaterdag
Afhankelijk
ETS2/ATS/Overig
Check altijd het schema, Zaterdag is geen vaste Streamdag, hierdoor kan deze vaak uitvallen!
Zondag
Ja
Train Simulator / Train Sim World
Kijk hier voor het Schema van de Zondag avond Treinen!
Onderhevig aan veranderingen, deze worden op Discord geplaatst.